The Machine God (Ebook)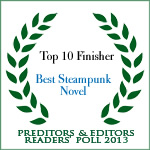 "Meilin Miranda writes a fascinating story about a person's search for the greater good. The Machine God is a story that I enjoyed thoroughly." -- Mihir Wanchoo, Fantasy Book Critic blog
Folklore Professor Oladel Adewole has lost tenure, and the beloved, much-younger sister he's raised has died; with no reason to stay, he leaves his homeland for the University of Eisenstadt. One thing makes his new life bearable: the mysterious island floating a mile above the city, his all-consuming interest for years.
When a brilliant engineer makes it to the island in her new invention, the government sends Adewole up with its first survey team. The expedition finds civilization, and Adewole finds a powerful, forbidden fusion of magic and metal: the Machine God.
The government wants it. So does a sociopath bent on ruling Eisenstadt. But when Adewole discovers who the mechanical creature is--and what it can do--he risks his heart and his life to protect the Machine God from the world, and the world from the Machine God.