The Bundle of Extraordinary Steampunk: The Machine God and 6 More Books!
Posted on: 6 August 2014
By: MeiLin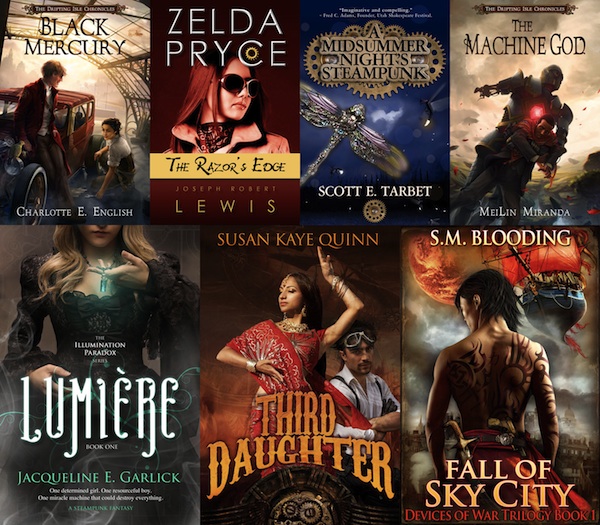 I am tickled to death to announce that today The Machine God is part of the Bundle of Extraordinary Steampunk, at Storybundle. The collection was curated by my friend Susan Kaye Quinn, and if you've never heard of Storybundle, this is how it works:
The initial titles in the bundle (minimum $3 to purchase) are:
Black Mercury by Charlotte E. English (one of the other Drifting Isle books)
Zelda Pryce by Joseph Robert Lewis
The Machine God by MeiLin Miranda (that's me)
A Midsummer Night's Steampunk by Scott E. Tarbet
If you pay more than the bonus price of just $10, you'll get another three books:
Lumière by Jacqueline E. Garlick
Third Daughter by Susan Kaye Quinn
Fall of Sky City by S.M. Blooding
You're going to want to sign up for my newsletter because I'll be giving away THREE of these bundles to subscribers later this week!
The bundle is available for a very limited time only, via http://www.storybundle.com. It allows easy reading on computers, smartphones, and tablets as well as Kindle and other ereaders via file transfer, email, and other methods. You get multiple DRM-free formats (.epub, and .mobi) for all books, but after the three weeks are over, the bundle is gone forever! You can also buy a gift card for this StoryBundle if you have a friend you think would enjoy this.
Why StoryBundle? Here's what they say for themselves.
-- Get quality reads: We've chosen works from excellent authors to bundle together in one convenient package.
-- Pay what you want (minimum $3): You decide how much four fantastic books are worth to you. If you can only spare a little, that's fine! You'll still get access to four thrilling titles.
-- Support authors who support DRM-free books: StoryBundle is a platform for authors to get exposure for their works, both for the titles featured in the bundle and for the rest of their catalog. Supporting authors who let you read their books on any device you want—restriction free—will show everyone there's nothing wrong with ditching DRM.
-- Give to worthy causes: Bundle buyers have a chance to donate a portion of their proceeds to charity. We're currently featuring Mighty Writers and Girls Write Now.
-- Receive extra books: If you beat our bonus price, you're not just getting four books, you're getting seven!
You've got three weeks to get this bundle, but get it now while you're thinking of it.