Fermenting
Posted on: 15 June 2012
By: MeiLin
I love doing weird stuff, especially when it turns out delicious: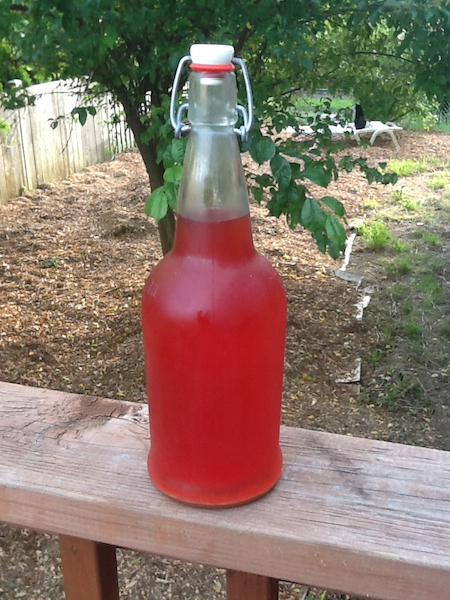 This is a bottle of "cherry drink." I don't know what else to call it. It is sweet, tart, slightly fizzy, and full of healthy probiotics. It's very slightly alcoholic, as in so slightly I don't worry about letting the kids have it. Also it's the prettiest shade of cerise!
I'm a fan of fermenting stuff--pickles, sauerkraut, kimchi, kombucha--and my guiding light in these things is a gentleman named Sandor Ellix Katz. He's just put out a massive book on fermenting all kinds of foods, from fruit, vegetables and milk to meat. It's called "The Art of Fermentation," and it's genius.
I made the cherry drink following his instructions for "country wine": sugar water and cherries in a gallon sun tea jar. The cherries had been frozen, so they didn't have their natural yeast; I added a very little bit of champagne yeast after it became clear it wasn't going to start on its own. I let it sit for three days and then put it up in EZ Caps at the same time I put up a gallon or so of kombucha. Into the fridge.
It's best served very cold, mixed with the kombucha. Very refreshing, pretty in the glass, and good for you.