"Like a Moonrise": On Sale 12/28/10
Posted on: 13 December 2010
By: MeiLin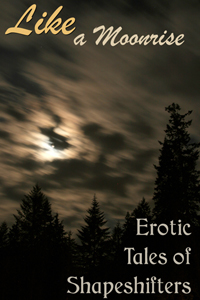 "Like a Moonrise: Erotic tales of Shapeshifters" goes on sale December 28th! It's a collection of erotica from Circlet Press, featuring my story "Fears Moon Woman":
Rabbit Runnels smelled her before he saw her.

Her scent was somehow familiar, like the smell the canyons gave off in the evenings after a hot day: sage, warm dirt, fur, clover--and female. Something deep within him woke up and rose on its hind legs.

He hadn't changed the once yet, but his ears and nose were almost unbearably acute now. He could track a man just by smell alone, even through the filth and stench of the mining camp. Useful for a deputy, but if he was lucky he'd never get the chance. If he was lucky, something would find him tonight and kill him. He couldn't do it himself, but it was all right with him if some critter ate him when he wasn't himself.

This wasn't a critter, though. This was a woman, and her scent pulled at him so hard he wondered if he'd keep his footing.
I've read the other stories in the collection, and it's a doozy; if you get an e-reader for Christmas, here's a great read to warm you up!

When it goes live, I'll be putting up the sales link here. If you're a reviewer, or if you promise to review it at Goodreads/Amazon/etc (not sure where-all it's going to be) as close to the 28th as possible, ping me and I'll get you a review copy.