Adventures set in a shared steampunk fantasy universe. A burgeoning city-state in the midst of an industrial revolution makes first contact with the inhabitants of an island floating a mile above it, and both cultures confront one another with miracles and secrets neither could imagine. A collaborative effort among MeiLin Miranda, Joseph Robert Lewis, Katherine Tomlinson and Charlotte E. English.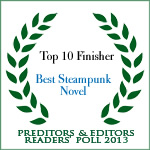 "Meilin Miranda writes a fascinating story about a person's search for the greater good. The Machine God is a story that I enjoyed thoroughly." -- Mihir Wanchoo, Fantasy Book Critic blog
Folklore Professor Oladel Adewole has lost tenure, and the beloved, much-younger sister he's raised has died; with no reason to stay, he leaves his homeland for the University of Eisenstadt. One thing makes his new life bearable: the mysterious island floating a mile above the city, his all-consuming interest for years.
When a brilliant engineer makes it to the island in her new invention, the government sends Adewole up with its first survey team. The expedition finds civilization, and Adewole finds a powerful, forbidden fusion of magic and metal: the Machine God.
The government wants it. So does a sociopath bent on ruling Eisenstadt. But when Adewole discovers who the mechanical creature is--and what it can do--he risks his heart and his life to protect the Machine God from the world, and the world from the Machine God.
The Drifting Isle Chronicles
This unique fantasy series was created by an international team of writers who collaborated to create a new shared world full of original and diverse people, places, creatures, and ideas. Perhaps for the first time in history, a team of writers has written and published an entire series of novels all at once!
Each author wrote their own book in this new world, telling very different stories about very different people living in one fantastical city during the greatest discovery of the modern age. The writers worked closely to weave their characters and plots carefully together, in order to bring you this unique tapestry of steampunk action and fantasy adventure.
The first three books, which you can read in any order, are:

Black Mercury. . . Charlotte E. English
The Kaiser Affair. . . Joseph Robert Lewis
The Machine God . . . MeiLin Miranda

Are you a fantasy writer? Would you like to join this exciting, ongoing collaboration project? To learn how you can write and publish your own official Drifting Isle novel, visit the series website.
The Drifting Isle Chronicles: Steampunk Fantasy in a Shared Universe