Posted on: 17 August 2008
By: MeiLin
We've met the target for this week's chapter and a little more, but artwork ain't cheap. To encourage folks to kick in extra for Alice, I'm posting a little snippet of her raw sketch of Temmin: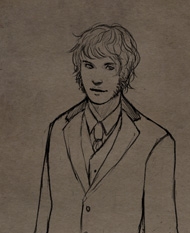 If you want to see this study finished (and you do, believe me), and if you want me to be able to put a down payment on Allis and Issak's study, kick a little extra in the pot this week. Even a dollar helps. Thanks.